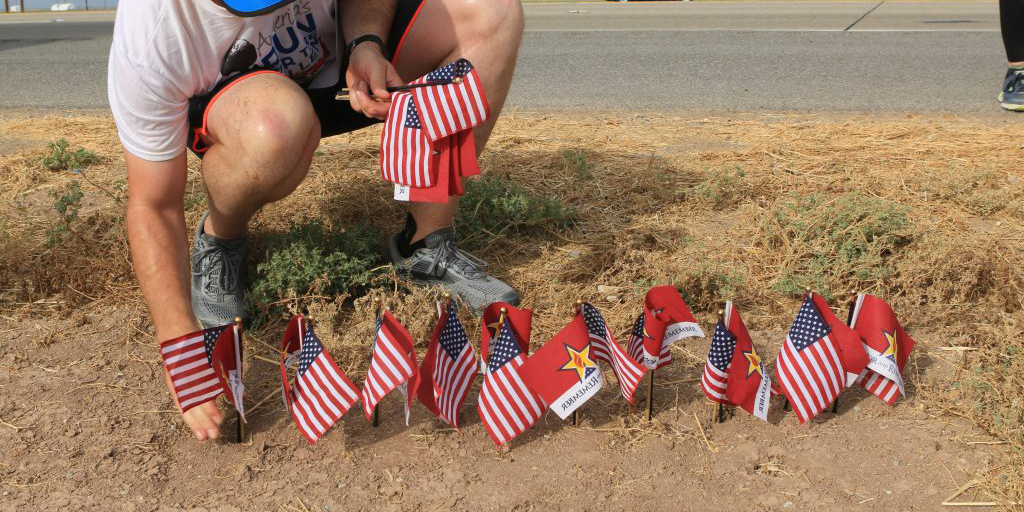 run for the fallen Alabama

Jones Valley Park Huntsville, AL | 100 Miles
Run for the Fallen Alabama will begin on Friday October 2, 2020 at 7:30 a.m. at Jones Valley Park Huntsville, AL, with an Kickoff Ceremony. Runners will be completing a one (1) mile loop around the park and pausing for 90 seconds at a designated Hero Marker (See 'How it Works' on this Site for more details). Running will commence at the completion of the ceremony at 8:00 a.m. and conclude for the day at 4:00 p.m. Running will reconvene the next morning Saturday October 3, 2020 at 7 a.m. and conclude at 3:00 p.m.
The listed timings and locations are subject to change as final details are confirmed during the next several months. 
Please check back regularly for updates and also follow us on Facebook.
TIMELINE
Day 1 – Friday October 2, 2020
HM Acreman-HM Crawford - 47 miles
7:30 a.m. Kickoff Ceremony
8 a.m. Running Commences (Starts)
4 p.m. Running Concludes (Ends) for the day
4:10 p.m. Closing Remarks
Day 2 – Saturday October 3, 2020
HM Leveritt - HM Zorn - 53 miles
7 a.m. Running Commences (Starts)
3 p.m. Running Concludes (Ends)
3:10 p.m. Closing Remarks