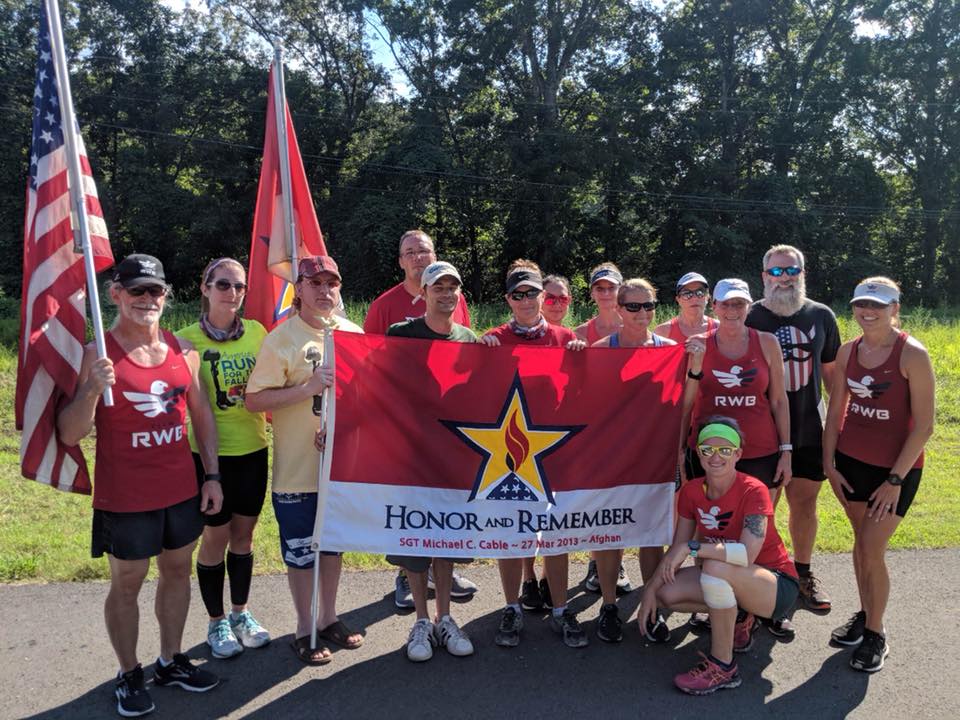 FREQUENTLY ASKED QUESTIONS
If you are planning to be at your loved one's marker here are a few things to know and do:
Q: What is the Run for the Fallen Alabama?
A: Run for the Fallen Alabama is a statewide relay foot run in tribute to every Alabama military service member who has died while serving or as a result of serving during the War on Terror, since October 12, 2000. Covering 100 miles and 340 names.
Q: How does the Run work?
A: A team of runners, along with a support crew running a specific timed schedule, will stop at one mile intervals and speak out loud the name of each fallen service member, date of death and branch of service. Family members, friends and patriots will be waiting to meet the runners and hear each name called out in a short ceremony.  Each ceremonial stop will be less than 1 minute as runners then continue toward the next mile.
Q: What support are you looking for?
A: As you can expect our needs are many and varied. Support is needed both locally and volunteers as well as financial. We need commitments from runners, support crew, sponsors, organizations, and media. VOLUNTEER FORM
Q: What Heroes are being honored along this tribute trail?
A: Our focus for this event is the War on Terror. We have identified state service members who have died while serving or as a result of serving during this period.  Criteria includes all service members regardless of cause of death.
Q: Is this tribute primarily for those who died in action?
A: No, The Honor and Remember Organization and Flag recognizes all military who died while serving or as a result of serving regardless of circumstance. Subsequently our Run for the Fallen events honor all of those service members who served and died whether in battle or due to the overwhelming hidden emotional scars of serving.
Q: How do I search to see if my Fallen Hero is being honored?
A: Every fallen service member since October 12, 2000 should be listed in our database. Click on FIND A HERO on our home page to search for your friend or loved one.
Q: My Hero did not die during the period of the War on Terror (WOT), will they still be honored?
A: Although Run for the Fallen is focused on the time period from October 12, 2000 forward we have in place many opportunities to honor your loved one. WOT hero markers will be placed at designated locations for you to attend. Also at the end of each day there will be a planned ceremony where we will honor additional family members. Any family member or friend who attends any of our end of day events, regardless of generation. Look over our route and determine where you possibly could attend and let us know. We are dedicated to include every fallen service member possible depending on family availability.
Q: What if the Hero's information is missing or inaccurate?
A: If you find any errors in the listed information please send an email to dataupdate@runforthefallen.org or you may click on the FIND A HERO link and fill in the ADD A HERO section with updates.
Q: What if I can't find my Hero on the Run for the Fallen search?
A: When you do a search to FIND A HERO and they are not identified there will be a link titled "ADD A HERO ". Please fill out all required information and once we verify, they will be added to the run according to their date of death. While we have an extensive list of service members there may be many that we have missed. We need to hear from you if you cannot find your loved one along the route.
Q: Can a family member, friend, or comrade run with the team for their mile?
A: Yes, but most importantly, they must be capable of keeping pace with our team members. In practice that means that you should be capable of running that mile in 9-10 minutes.
Q: How do I meet the runners at my loved one's marker?
A: First, search for your loved one's marker along the route. Second, let us know that you'll be there and we will do our best to identify the exact time and location that day. Be sure to select "Stand At a Hero Marker" on the volunteer form.
Q:
 Can I stand and wait for the Run Team to arrive at my Hero's Marker?
A: We encourage ALL family members and friends to be at their loved one's marker if at all possible. Please bring photos, posters, banners, Honor and Remember Flags or whatever personal tribute you would like to visually make. We realize that there may be some great distance for some to travel. If you cannot attend, please send someone in your place or select another hero along the route closest to you to stand for. Each ceremonial stop will be less than 1 minute as runners then run toward next marker. Also please join us at each end of day ceremony so that we may honor you there as well.
Q: What will the Hero Marker Look Like?
A: If Markers are placed that day, they will be printed in color and laminated on an 8 1/2" x 11" full sheet. If possible we are planning to decorate for easier visibility.
Q: When Should I arrive at my Hero's Marker?
A: Each marker is specifically timed. The team is running a pace of between 9-10 minutes between each.  You may also contact us day-of so that we can update you on our progress. Each ceremonial stop will be less than 1 minute as runners then continue toward next marker.
Q: I can't make it to our marker but would still like to participate.
A: Due to time and distance restraints we know you may not be available to directly participate at your specific marker. However, we would encourage you to send friends or relatives to yours and you could stand for another family in a location that may be closer in proximity to your home state.
In addition there will be a live feed posted on our Run for the Fallen FB page.