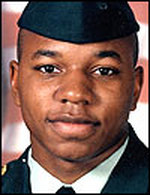 STAFF SGT. JEREMIAH E. MCNEAL – U.S. Army
Hometown / City: NORFOLK, VA NORFOLK (CITY)
Date of Death: Sunday, April 6, 2008
Conflict: Operation Iraqi Freedom (Iraq)
Branch: U.S. Army
Rank: Staff Sgt.
Unit: 237TH ENGINEER COMPANY, 276TH ENGINEER BATTALION, 91ST TROOP COMMAND, WEST POINT, VA
Birth: Nov. 16, 1984
Norfolk
Norfolk City
Virginia, USA
Death: Apr. 6, 2008, Iraq
Staff Sgt. Jeremiah E. McNeal of Norfolk, Virginia graduated from Booker T. Washington High School in Norfolk in 2002. Shortly after, he enlisted in the Virginia Army National Guard. From Feb. 2004 to Feb. 2005. He was proud to join the Virginia National Guard, but he also worked hard to keep military life separate from his family. He deployed with the West Point-based Guard unit to Iraq. After his homecoming and before returning to active duty for this deployment, McNeal worked at Raytheon in Norfolk as a technical support associate who specialized in calibrations and troubleshooting electronic equipment, according to the Virginia Guard. He is survived by his wife, 4-year-old son, mother and father. He died in Baghdad, Iraq, of wounds suffered when his vehicle encountered an improvised explosive device at age 23.
Army
National Guard
237th Engineer Company
276th Engineer Battalion
91st Troop Command
West Point, Va. Burial:
Albert G. Horton Jr. Memorial Veterans Cemetery
Suffolk
Suffolk City
Virginia, USA
Plot: Sec 3 Row 57 Site 7