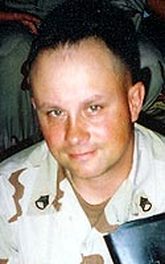 STAFF SGT. GREGORY V. PENNINGTON – U.S. Army
Hometown / City: GLADE SPRING, VA WASHINGTON
Date of Death: Monday, June 21, 2004
Conflict: Operation Iraqi Freedom (Iraq)
Branch: U.S. Army
Rank: Staff Sgt.
Unit: CO C, 2ND BN, 7TH CAV REGT, 1ST CAV DIVISION, FORT HOOD, TX 76544
Birth: Jan. 4, 1968, USA
Death: Jun. 21, 2004
Baghdad, Iraq
Staff Sgt. Gregory V. Pennington of Glade Spring, Virginia was a member of Special Forces, and becasue of that he couldn't tell his family much about his experiences in Iraq. However he still made sure to call home on Father's Day, the day before he died. He was buried in the Azen Baptist Church Cemetery, not far from the house in the shadow of the mountains where he grew up. He helped evacuate the camp before being killed by a mortar blast and died on the way to a military hospital. They were asleep, and Greg heard them start firing. He hurried and woke everybody up and got all the other guys out. He was the last one to go out. Greg joined the Army upon graduation from Holston High School in Damascus in 1986. He graduated one day and went in the next. He then left the Army and returned home to Konnarock, working at the Southwestern Virginia Mental Health Institute in Marion as a storeroom supervisor before re-enlisting in 1996. He is survived by his wife, Janet among others. He was 36.
Army
2nd Squadron
7th Cavalry Regiment
1st Cavalry Division
Fort Hood, Texas Burial:
Azen Missionary Baptist Church Cemetery
Konnarock
Washington County
Virginia, USA