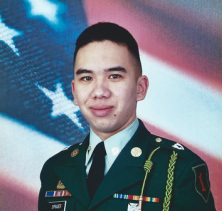 SGT. LAWRENCE GEORGE SPRADER, JR. – US Army
Hometown: Prince George, VA.
Died: June 12, 2007.
Unit: Assigned to the 11th Military Police Battalion at Fort Hood, TX.
Birth: Jul. 2, 1982
Prince George
Virginia, USA
Death: Jun. 12, 2007
Texas, USA
Sgt. Sprader Prince George, Va., attended Prince George High and graduated in 2000 and enlisted in the United States Army just 14 days after graduating. His love for the Army was very evident in that he felt it helped to make him a better person. He served two tours of duty in Iraq, and was well respected by his fellow soldiers. He was described as a funny guy, whose one-liners kept everyone's spirits up during tough times. He had returned from an Iraq deployment in September and worked in the criminal investigation division of Fort Hood. A model soldier, he had a goal to succeed. He was one of nearly 320 noncommissioned officers taking part in a two-week leadership course when he died nearing end of the training course from hyperthermia and dehydration at age 25.
Burial:
Virginia Veterans Cemetery
Amelia Court House
Amelia County
Virginia, USA
Plot: Sec 6 Row 41 Site 9