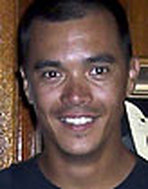 SGT. KENITH CASICA – U.S. Army
Hometown / City: VIRGINIA BEACH, VA VIRGINIA BEACH (CITY)
Date of Death: Saturday, December 10, 2005
Conflict: Operation Iraqi Freedom (Iraq)
Branch: U.S. Army
Rank: SGT
Unit: COMPANY B, 1ST BATTALION, 502D INFANTRY, 2D BCT(TF BAGHDAD) FORT CAMPBELL, KY
Birth: Jul. 19, 1973, Philippines
Death: Dec. 10, 2005
Baghdad, Iraq
Connie "Renee" Casica said her husband wanted to become a U.S. citizen more than anything in the world. Born in the Philippines, Kenith Casica grew up in Virginia Beach from the age of 2. The 32-year-old Army sergeant will get his wish for citizenship, Renee Casica said – the day his ashes are buried in Kentucky. Casica, who served with 1st Battalion, 502nd Infantry Regiment, 2nd Brigade Combat Team, 101st Airborne Division out of Fort Campbell, Ky., was killed by small arms fire on Saturday in Baghdad, the Department of Defense announced today. It was his second tour in Iraq with the 101st, and it wasn't his first brush with death. Casica was injured by shrapnel from a rocket propelled grenade during his first deployment.
"I think it made it made him more determined," Renee Casica said. "He believed in what he was doing. He believed he was making a difference over there." The couple has three children: Kristen, 13; Shilyn, 7; and Logan, 4. Casica's mother, Benigna Whalen, step-father Scott Whalen and father, Joseph Fauci, live in Hampton Roads. He is also survived by a brother and sister.
The day before his death, Casica spoke to an Army journalist about the patrols his platoon was doing in a neighborhood near Baghdad for weapons, insurgents and anti-coalition materials. "I guess the patrols make insurgents nervous because they know…we'll push them out of this area to make the people safe," Casica told the reporter. "We want [the citizens] to realize that we are here to help them." He spoke to his wife the same day.
She said her childhood sweetheart – Renee met him at age 14 and married him two years later, when he was 19 – had a habit of not ending a phone call with "Goodbye." Instead, he'd finish with "See you later" or "See you soon." Friday, though, he ended the call by uttering, "Goodbye, Renee."
It was the last time they spoke. Renee Casica said Ken could light up a room with his jokes. He became a friend to everyone he met. He loved fishing and the ocean. As a teenager, his family said, Casica worked at the McDonald's on Bonney Road in Virginia Beach. He delivered The Virginian-Pilot and worked for a time pouring concrete.
Casica graduated from Green Run High School in 1994, his wife said, and entered the Army two years later. "He loved his job, but it wasn't all he loved. He loved life," Casica said. "He was a person that could walk into a room that was dead and bring it back to life." She is making it through the toughest days of her life with a firm belief that her 15 years with Kenith were a precious gift. "God gives you a blessing for a reason," she said. She's glad that her husband will become a citizen, though after his death: "He wanted it more than anything, because this is his country."
THIS LISTING IS A MEMORIAL CENOTAPH. ACTUAL BURIAL IS ELSEWHERE
Burial:
Warriors Walk Memorial
Hinesville
Liberty County
Georgia, USA
Plot: 289