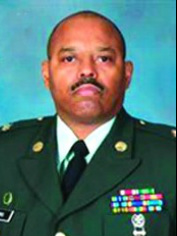 SFC ROBIN L. TOWNS – U.S. Army
Hometown / City: PORTSMOUTH, VA PORTSMOUTH (CITY)
Date of Death: Wednesday, October 24, 2007
Conflict: Operation Iraqi Freedom (Iraq)
Branch: U.S. Army
Rank: SFC
Unit: 275TH MILITARY POLICE CO, 97TH MILITARY POLICE BN, 89 MP BDE, WASHINGTON, D.C.
Birth: Jul. 10, 1955
Portsmouth
Portsmouth City
Virginia, USA
Death: Oct. 24, 2007
Salah ad Din, Iraq
SFC Towns, of Upper Marlboro, Maryland. Robin was a 1973 graduate of Manor High School in Portsmouth and enlisted in the United States Army at age 17. He rose to the rank of platoon sergeant and was honorably discharged in 1989. He worked as a correctional officer for Prince George County Virginia and a armored car driver. He joined the National Guard, serving in units for Maryland, Virginia and Washington, D.C. As a guardsman, he helped with relief efforts after hurricanes Katrina and Isabel among other natural disasters. Robin left for Iraq only nine days earlier, assigned to the 275th Military Police Company, 372nd Military Police Battalion, Washington, D.C. National Guard on what was to be a 18 month long tour of duty. He died of wounds suffered when an improvised explosive device detonated near his Humvee during combat operations. Known for his love of entertaining, cookouts, barbecuing and a passion for the Philadelphia Eagles professional football team, he leaves behind his wife, Sheila Collins Towns; children: Carita K., Robin L., Jr., Rheavan N. and Leslie A. Towns; step-children Stacey C. and Manuelle I. DuVall; grandchildren Lilly Rea Kibert, Jadon De'Shun Trotter, Amaya Jordan Towns and Landon Isiah Towns; two brothers, five sisters-in-law and many of other family members.
Burial:
Arlington National Cemetery
Arlington
Arlington County
Virginia, USA
Plot: Section 60, Site 8720