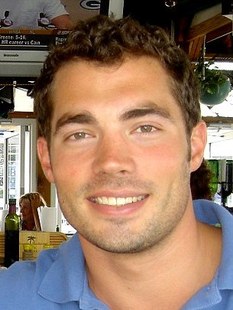 SPECIAL WARFARE OPERATOR CHIEF PETTY OFFICER (SEAL) ROBERT J. REEVES – U.S. Navy
Hometown / City: Shreveport, LA
Date of Death: Saturday, August 6, 2011
Conflict: Operation Enduring Freedom (Afghanistan)
Branch: U.S. Navy
Rank: Special Warfare Operator Chief Petty Officer (SEAL)
Unit: Naval Special Warfare Unit
Post / Base: East Coast
Birth: Aug. 2, 1979, USA
Death: Aug. 6, 2011
Saydabad
Vardak, Afghanistan
A member of the elite Navy SEALs, killed in the shoot-down of the Chinook helicopter in which he was traveling to a rescue operation in Afghanistan.
The family's obituary for him, published in The Times at Shreveport Thursday, Aug. 11-13, 2011:
Robert James Reeves
SHREVEPORT, LA – Robert James Reeves, born August 2, 1979, was killed in action on August 5, 2011 fighting for his country as a United States Navy SEAL. Smart, funny, honorable, loyal, kind and generous, Rob was truly a special force in our lives. We are heartbroken to lose him too soon.
Rob will be remembered as a big-hearted son, brother, friend and teammate who would do anything to support those close to him. His steadfast loyalty sent him to the sides of family members and friends at a moment's notice, regardless of his own priorities. He was a rock of support and could always diffuse a tense situation, usually dissolving a somber room into one full of laughter. Rob's quick wit, humor and sarcasm will be missed by all those who had the pleasure of laughing, usually at their own expenses, courtesy of Rob.
Rob had a quiet humility that kept him from touting his many achievements and talents (although his proud father usually made up for this). He approached every challenge in life with intense curiosity and an astounding determination to master his next chosen task, which he inevitably did. He had an insatiable appetite for learning new things, gaining the most of all life's offerings and a genuine interest in making things better. His itch to experience life and continue learning took him around the world learning languages, mountain climbing, starting businesses, base jumping, negotiating, motorcycling, teaching, and flying. And these are just a few of his recent adventures.
For 13 years Rob served admirably in the United States Navy. He served tours of duty all across the world and among his many military commendations he was the recipient of four Bronze Stars. A dedicated soldier, he pursued his life's work with passion and pride, and he shared that pride with his beloved teammates, family and friends.
Rob is preceded in death by his mother, Jo Sheryn Batliner Reeves, his grandfathers, Robert Vincent Batliner and James Otis Reeves, and his cousin Samuel Wyatt Stoothoff. He is survived by his father, James Weldon Reeves, his sister, Emily Reeves, and his grandmothers, Francis Stallcup Reeves and Jo Nell Batliner.
A memorial service will be held in Shreveport, Louisiana on August 13, 2011 at 11 AM in St. Mark's Cathedral. In lieu of flowers, the family kindly requests that you consider a donation to the Wounded Warrior (http://www.woundedwarriorproject.org/) or the Navy SEAL Foundation (http://www.nswfoundation.org/) to support the families of Rob's fallen teammates and the Navy SEAL communities.
====================================
Published in Shreveport Times from August 11 to August 13, 2011
From The Times at Shreveport, Aug. 6, 2011:
Local SEALs among dead in Afghanistan helicopter crash
By Adam Duvernay
Two Shreveport-born Navy SEALs were among the victims of the deadliest single attack in the nearly decade-long Afghanistan conflict.
Chief Petty Officer Robert James Reeves, 32 andLt. Commander Jonas Kelsall, 33, both were killed today when a U.S. Chinook helicopter crashed in Wardak province.
Military authorities have not released the exact cause of the crash, but the ISAF did report enemy activity in the area.
The attack killed 30 American International Security Assistance Force service men, a civilian interpreter and seven Afghan commandos, the U.S. Department of Defense reported. Reports indicated many of the passengers killed were SEALs.
Reeves and Kelsall were both graduates of Caddo Magnet High School where they played soccer together, according to John Kelsall, Jonas Kelsall's father. Both would join the military after graduation, though Reeves spent a year at LSU first, his father, Jim Reeves of Shreveport, said.
Reeves became a SEAL in 1999, his father said, and served on SEAL Team 6. He was deployed many times in his career and earned four Bronze Star medals, among other achievements, his father said.
Kelsall was one of the first members of SEAL Team 7, his father, John Kelsall, said, and received most of his training in San Diego. He attended the University of Texas right out of Basic Underwater Demolition training where he met his wife, Victoria Jennings, John Kelsall said. They were married for three years.
====================================
Commander, Naval Special Warfare Command, Rear Admiral Sean A. Pybus, released the following statement:
" Early Saturday morning, Aug. 6, Naval Special Warfare suffered a tremendous loss of 22 men while conducting critical special operations combat in Afghanistan. They cannot be replaced. We will honor their service and sacrifice, and embrace their families as our own, in this time of immeasurable grief. The outpouring of support and sympathy from the Armed Services, the Government, Communities and the Public is well beyond my ability to properly thank. The Naval Special Warfare Community is deeply humbled and appreciative.
Our NSW men were in company with U.S. Army aircrew, U.S. Air Force para-rescue and combat controllers, and an Afghan security element. We grieve for all of them, and admire their teamwork, commitment and courage. I have great hope for the future knowing that extraordinary men dedicate themselves completely to the idea and the actions of freedom and security, not only for ourselves but for others. We are truly blessed that such men answer a call to military service at the highest levels of professionalism and capability, but also deeply saddened by their loss. In the days and weeks ahead, I would ask for your thoughts, prayers and support for NSW, our Families, the Special Operations Community, and all of our Armed Forces."
Family links:
Parents:
Jo Sheryn Batliner Reeves (1947 – 2007)
Burial:
Body buried at sea
Specifically: Buried at sea per his wishes. He has a cenotaph, or an unoccupied tomb, at Arlington National Cemetery, space "MK Section 265"