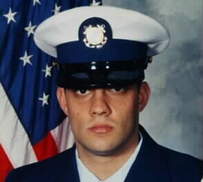 Petty Officer 3rd Class Nathan B. Bruckenthal
Smithtown, New York
Died April 24, 2004
Northern Persian Gulf
Unit: Coast Guard – Tactical Law Enforcement Team South Detachment 403
A Dania Beach, Florida, man has become the first Coast Guard member to die in combat since the Vietnam War.
Petty Officer 3rd Class Nathan B. Bruckenthal, 24, who was based out of Coast Guard Air Station Miami, died in an explosion Saturday when an unidentified boat he was attempting to board blew up. It was Bruckenthal's second tour in Iraq and he was 30 days from returning home.
"He was a very fun-loving boy," said Bruckenthal's father, Ric Bruckenthal, of Northport, New York. "He was always a happy child and he turned into a happy young adult. We're very proud of what Nathan did."
Bruckenthal, who left a pregnant wife behind, was one of three servicemen who died during an attack on two oil terminals in the northern Arabian Gulf.
According to the Coast Guard, Bruckenthal was part of a seven-member Coast Guard and U.S. Navy boarding team that was approaching an unidentified dhow, a small boat often used for fishing in the Gulf, when the dhow exploded as it approached the Khawr Al Amaya Oil Terminal.
About 20 minutes later, two smaller speedboats approached the Al Basrah Oil Terminal and also exploded as security teams tried to intercept them.
Two sailors were also killed, Petty Officer 1st Class Michael J. Pernaselli, a 27-year-old boatswain's mate from Monroe, New York, and Petty Officer 2nd Class Christopher E. Watts, a 28-year-old signalman from Knoxville, Tennessee.
Three other sailors and another Coast Guardsman were wounded and are recovering at a Kuwait military hospital.
Jordanian militant Abu Musab al-Zarqawi claimed responsibility for the attack in the name of the Jamaat al-Tawhid wa'l-Jihad, or Unity and Jihad Group, in a message posted on an Islamic Web site that often carries statements said to be from al-Qaida.
A Long Island native, Bruckenthal grew up in Hawaii, Virginia and Connecticut. His stepfather served in the Army and his father is police chief in Northport.
Bruckenthal joined the Coast Guard when he was 18 and served in Long Island and Washington State before joining Tactical Law Enforcement Team South, known as TACLET South, at Coast Guard Air Station Miami.
TACLET South has sent law enforcement detachments to help since the beginning of operations in Iraq. Coast Guard operations in Iraq include port and coastal security, maritime law enforcement, humanitarian aid and training of the newly established Iraqi coast guard.
Bruckenthal was first deployed to Iraq from February to May 2003 and returned in February.
"He was very honored to do anything that the Coast Guard asked him," said Petty Officer Daniel Burgoyne, who was Bruckenthal's shipmate, friend and neighbor in Dania Beach. "He was a true patriot. He loved serving his country."
Burgoyne recalled going mountain biking with Bruckenthal and said his shipmate once purposely led him on a particularly difficult trail "just to see if I could handle it."
"He was always trying to test someone I think to make sure that he could hang out with him, but in the end he just wanted to be your friend," Burgoyne said.
Burgoyne said serving with Bruckenthal was fun since he found ways to lighten the mood on long missions.
"When we were on deployments he would always tell stories about the dumbest things," he said. "It was always good to have him around. You always could count on him for a laugh."
Because of the young petty officer's rapport with his peers, Commander Glenn Grahl, commanding officer of TACLET South, had tapped him to join the training staff upon his return. Only the cream of the crop is picked for the assignment of training other members of TACLET South, Grahl said.
"Anybody who comes to my training staff has the ability to work well with people, and that was what he was all about," he said.
Bruckenthal had been married two years, but missed both anniversaries because he was in Iraq. His wife, Pattie, is three months pregnant with their first child, for whom the Coast Guard is setting up a scholarship and trust fund.
Bruckenthal was excited about his impending fatherhood, Burgoyne said, and he loved his wife.
"He would never go anywhere without her," he said.
On Monday, Bruckenthal's family was making arrangements to bury him at Arlington National Cemetery, fulfilling one of the Coast Guardsman's final requests.
"We won't forget him," Ric Bruckenthal said.