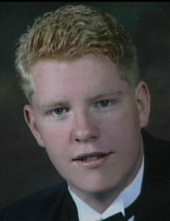 PFC. JASON D. SCHEUERMAN – U.S. Army
Hometown / City: LYNCHBURG, VA LYNCHBURG (CITY)
Date of Death: Saturday, July 30, 2005
Conflict: Operation Iraqi Freedom (Iraq)
Branch: U.S. Army
Rank: Pfc.
Unit: HHC, 1ST BATTALION, 30TH INFANTRY, 3D ID, (TF LIBERTY), FORT BENNING, GA
Birth: May 31, 1985, USA
Death: Jul. 30, 2005, Iraq
Pfc. Scheuerman of Lynchburg, Virginia loved life and enjoyed hiking, rock climbing and playing video games. He was a fun-loving person, and a deep intellectual. He spent part of his high school years at Heritage High School in Lynchburg before finishing high school in Sanford, North Carolina in 2003. During high school he participated in the ROTC. Jason and his brother both joined the Army after high school. Chris is a chaplain's assistant at Fort Bragg, N.C. There was never much question that Jason would follow his dad and brother into the Army. He was an active member at West Lynchburg Baptist Church and and a voice in the adult choir. He also went on several mission trips and conducted backyard Bible classes. He was funny, friendly and he loved kids. It's a terrible loss for his family, his church and his community. He was 20.
Army
1st Battalion
30th Infantry Regiment
3rd Brigade
3rd Infantry Division
Fort Benning, Ga Burial:
Sandhills State Veterans Cemetery
Spring Lake
Cumberland County
North Carolina, USA
Plot: Sec 8A