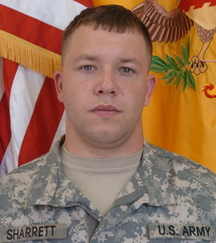 Pfc. DAVID H. SHARRETT – U.S. Army
Hometown / City: OAKTON, VA
Date of Death: Wednesday, January 16, 2008
Conflict: Operation Iraqi Freedom (Iraq)
Branch: U.S. Army
Rank: Pfc.
Unit: COMPANY C, 1ST SQUADRON, 32D CAVALRY, 1 BCT, FORT CAMPBELL, KY
Birth: Jun. 29, 1980
Woodstock (Shenandoah County)
Shenandoah County
Virginia, USA
Death: Jan. 16, 2008
Salah ad Din, Iraq
PFC Sharrett of Oakton, Virginia. David graduated from Oakton High School. He attended Northern Virginia Community College and worked various jobs after high school, including bartending in St. Croix. David entered the Army in August 2006 and arrived at Fort Campbell in December 2006. His awards and decorations include: National Defense Service Medal; Global War on Terrorism Service Medal; Army Service Ribbon; and Weapons Qualification, M4, (expert) and The Purple Heart. David died of wounds suffered in Balad, Iraq, when he was attacked by grenade and small arms fire during combat operations at age 27. He was currently assigned to the 1st Squadron, 32nd Cavalry Regiment, 1st Brigade Combat Team, 101st Airborne Division (Air Assault), Fort Campbell, Kentucky. He is survived by his wife Heather Shell of Oak Grove, Kentucky.; his mother Kimberly Drummond, stepfather Bob Drummond, half sisters Laura, Holly Drummond and Jennifer Moseley, all of Strasburg; his father and stepmother Dave and Vickie Sharrett, his half brothers Chris and Brooks Sharrett, all of Oakton; grandparents Shelby and Kitty Sager of Woodstock, Harold Bly of Virginia Beach, Alan Sharrett of Williamsburg, Va., and many aunts, uncles and cousins.
Burial:
Arlington National Cemetery
Arlington
Arlington County
Virginia, USA
Plot: Section 60, Site 8729