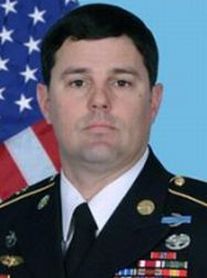 MASTER SGT. GEORGE A. BANNAR JR. – U.S. Army
Hometown / City: Orange, VA
Date of Death: Tuesday, August 20, 2013
Conflict: Operation Enduring Freedom (Afghanistan)
Branch: U.S. Army
Rank: Master Sgt.
Unit: 3rd Battalion, 3rd Special Forces Group
Post / Base: Fort Bragg, N.C
Birth: unknown
Death: Aug. 20, 2013 – Wardak Vardak, Afghanistan
A Fort Bragg soldier died Tuesday of injuries he suffered when his unit was attacked in Afghanistan, the Department of Defense said Wednesday.
Master Sgt. George A. Bannar Jr., 37, of Orange, Va., was assigned to Company C, 3rd Battalion, 3rd Special Forces Group (Airborne) at Fort Bragg and was deployed in support of Operation Enduring Freedom.
Enemy forces attacked his unit with small-arms fire in Wardak province, the Defense Department said.
It was Bannar's fifth deployment to Afghanistan, according to a news release from the U.S. Army Special Operations Command.
Bannar enlisted as a medical specialist in October 1996 and completed his medical training at Fort Sam Houston, Texas, and then attended the Army Airborne School at Fort Benning, Ga.
Upon completion of his initial training, he was assigned to the 3rd Battalion, 505th Parachute Infantry Regiment, 82nd Airborne Division. While serving in the 82nd, he volunteered for the Special Forces Assessment and Selection and began his Special Forces training in 2001.
He graduated from the Special Forces Qualification Course in July 2003 as a Special Forces medical sergeant and was assigned to the 1st Battalion, 3rd Special Forces Group. Bannar served in the 1st Battalion for five years, deploying with the unit to Afghanistan four times.
In August 2008, he was assigned to the 1st Special Warfare Training Group (Airborne) and stationed in Yuma, Ariz., where he worked at the Military Free Fall School as an instructor. In October 2012, Bannar returned to the 3rd Special Forces Group and was assigned to the 3rd Battalion.
Bannar earned an associate degree from Fayetteville Technical Community College and a bachelor's degree from Campbell University. His military education included Airborne School, Jumpmaster School, Air Assault School, Advanced Leaders Course, Survival, Evasion, Resistance and Escape Course, Senior Leaders Course, Advanced Special Operations Techniques Course, Military Free Fall School, Military Free Fall Jumpmaster School and others.
His awards and decorations include the Bronze Star Medal with Valor Device, Meritorious Service Medal, Bronze Star Medal, Army Commendation Medal with Valor Device, Army Commendation Medal (3), Army Achievement Medal, Meritorious Unit Commendation, Army Good Conduct Medal (5), National Defense Service Medal, Afghanistan Campaign Medal with three Campaign Stars, Global War on Terrorism Expeditionary Medal, Global War on Terrorism Service Medal, Noncommissioned Officer Professional Development Ribbon (3), Army Service Ribbon, NATO Medal, Expert Field Medical Badge, Air Assault Badge, Canadian Parachutist Badge, Royal Netherlands Army Parachutist Badge, Venezuelan Parachutist Badge, Master Parachutist Badge, Military Free Fall Jumpmaster Badge, Combat Medical Badge, Combat Infantryman Badge and the Special Forces Tab.
He was posthumously awarded the Purple Heart and Bronze Star.
Bannar is survived by his wife and parents.