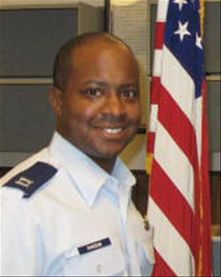 MAJ. CHARLES A. RANSOM – U.S. Air Force
Hometown / City: Midlothian, VA
Date of Death: Wednesday, April 27, 2011
Conflict: Operation Enduring Freedom (Afghanistan)
Branch: U.S. Air Force
Rank: Maj.
Unit: 83rd Network Operations Squadron
Post / Base: Joint Base Langley-Eustis, VA
Birth: May 4, 1979
Chesterfield County
Virginia, USA
Death: Apr. 27, 2011
Kabul, Afghanistan
Maj. Charles A. Ransom, 31, of Midlothian, Va. He was assigned to the 83rd Network Operations Squadron, Joint Base Langley-Eustis, Va. He died April 27, at the Kabul International Airport, Afghanistan, of wounds suffered from gunfire. He was a Virginia Military Institute alumnus and was Vice President of the Class of 2001. He was a Computer Science major, a Cadet Corporal Platoon Sergeant and Rat Challenge Corporal. Charles leaves to cherish his memory, father, Willie D. Ransom; mother, Marysue Ransom; brother, Stephen (Vanessa); the love of his life, Naquita Bassfield; five uncles, seven aunts, and a large extended family and countless friends. He was one of eight American NATO International Security Assistance Force service members who died following a shooting incident at the Afghan Air Force compound in Kabul.
Burial:
First Baptist Church Cemetery
Midlothian
Chesterfield County
Virginia, USA