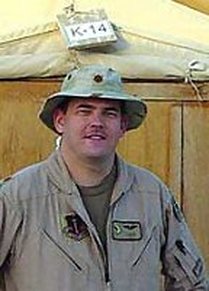 LT. COL. WILLIAM R. WATKINS – U.S. Air Force
Hometown / City: DANVILLE, VA DANVILLE (CITY)
Date of Death: Monday, April 7, 2003
Conflict: Operation Iraqi Freedom (Iraq)
Branch: U.S. Air Force
Rank: Lt. Col.
Unit: 333D FIGHTER SQUADRON, SEYMOUR JOHNSON AFB, NC
Birth: Dec. 17, 1965
South Boston
Halifax County
Virginia, USA
Death: Apr. 7, 2003, Iraq
Killed In Action in Iraq. F-15E weapons system officer stationed with the 333rd Fighter Squadron, Seymour Johnson Air Force Base, Goldsboro, North Carolina. Also killed was Capt. Eric Das, the Pilot of the F-15E. Capt. Das also has a memorial dedicated to him on this site. Please remember these brave men and the freedoms that have provided for us.
NOTE: Some of the officer's remains were recovered later (along with the pilot's) a not-uncommon occurrence when a supersonic jet crashes in a combat zone. The families decided to have the newly found remains buried at Arlington. In a joint burial, the remains of Lieutenant Colonel William R. "Salty" Watkins III and Captain Eric B. "Boot" Das were laid to rest in a single casket, in a single grave. Burial Date was 28 Aug 2003.
Burial:
Arlington National Cemetery
Arlington
Arlington County
Virginia, USA