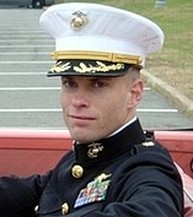 LT. COL. JOSEPH T. MCCLOUD – U.S. Marine Corps
Hometown / City: GROSSE POINTE PARK, MI WAYNE
Date of Death: Monday, December 4, 2006
Conflict: Operation Iraqi Freedom (Iraq)
Branch: U.S. Marine Corps
Rank: Lt. Col.
Unit: H&S CO, 2D BN, 3D MAR, (RCT-7, I MEF FWD), 3D MAR DIV, KANEOHE BAY, HI
Birth: Dec. 14, 1966
Elizabethton
Carter County
Tennessee, USA
Death: Dec. 4, 2006
Al Anbar, Iraq
Lt. Col. Trane McCloud served almost 17 years with the Marines and began his tour in Iraq in September. He was an outstanding athlete even as a young boy and made the All-City team in football in Detroit, playing linebacker for the Grosse Pointe team. He also stood out as a center fielder in Colt League baseball for teenagers. At 14 he told his father he was going to catch someone loafing to first after making a solid hit. He was true to his word, throwing the ball to first base from center field in time to make the out. After graduating, he went to the University of Tennessee, where he studied liberal arts and history. He graduated in 1989 and enlisted in the Marine Corps just in time for Desert Storm, during which he served on the USS Missouri. His crew fired a 5-inch gun on the starboard side during the bombardment of the Kuwaiti coastline. He also served on the ship during action in Somalia. During his time on the ship, the captain grew fond of the young Marine and encouraged him to attend Officer Candidate School. He was accepted. His most memorable moment on board the Missouri came at Pearl Harbor, when the captain selected him to escort the first President Bush on the 50th anniversary of the bombing of Pearl Harbor. After obtaining his commission, McCloud was assigned as an infantry officer. He was a reservist serving on active duty. One of his assignments was with the Navy and Marine Corps News, where he produced a weekly television program that was broadcast weekly to sailors and Marines around the world. After the terrorist attacks on the World Trade Center and the Pentagon, McCloud served in the Philippines. Although Trane was born in Elizabethton, his family moved away when he was only 2 years old. The family first went to Atlanta and later to the Detroit area, where he graduated from Grosse Pointe High School. He was 39.
Marines
2nd Battalion
3rd Marine Regiment
3rd Marine Division
III Marine Expeditionary Force
Kaneohe Bay, Hawaii Burial:
Arlington National Cemetery
Arlington
Arlington County
Virginia, USA
Plot: Sec 60 Site 8455