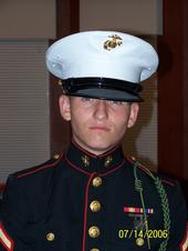 LCpl. KELLY E. WATTERS – U.S. Marine Corps
Hometown / City: VIRGINIA BEACH, VA VIRGINIA BEACH (CITY)
Date of Death: Wednesday, June 11, 2008
Conflict: Operation Iraqi Freedom (Iraq)
Branch: U.S. Marine Corps
Rank: LCpl.
Unit: 3D BN, 6TH MAR, (RCT-1, I MEF FWD), 2D MAR DIV, CAMP LEJEUNE, NC
Birth: unknown
Death: Jun. 11, 2008
Bethesda
Montgomery County
Maryland, USA
Marine Lance Cpl. Watters was assigned to 3rd Battalion, 6th Marines, 2nd Marine Division, II Marine Expeditionary Force, Camp Lejeune, North Carolina. He died from wounds sustained during a firefight and from a hit by an RPG in northern Fallujah, Iraq. Watters was struck by the explosion and received a severe chest wound but the concussion of the explosion caused severe brain trauma. He was evacuated to Bethesda Naval Hospital in Maryland and died with his family by his side. Kelly was a free spirit who liked to do things his way. After attending Floyd Kellam High School in Virginia Beach, Virginia his freshman and sophomore years, he decided to drop out in 2005. He came from a military family so when he decided to get his GED and join the Marines in 2005 his family wasn't too surprised. Kelly was first deployed to Iraq in January 2007 and during that time he earned a Purple Heart. During his 30 months in the Marines, he was promoted twice, earned two Purple Hearts, and became a leader to the other men. Kelly loved movies and music and only a week earlier, he had told his parents he wanted to save up for a new Dodge Charger and sell his truck. He also asked them to send him a care package of Slim Jims and his favorite crackers. His options for the future were varied – from staying in the Marines, becoming a police officer, going back to school or perhaps becoming a massage therapist. The only thing that upset him was the political controversy surrounding the war and the negative tone of news media coverage. He felt that he, his Marine buddies and 99 percent of the people over there were committed to the mission. They walked the streets and saw the progress – every one of them knew they were making a difference. Kelly loved the water, the beach and the sun. On a Thursday night, he made his last trip to the beach. To fulfill one of their son's last wishes, the Watters family went to Sandbridge in south Virginia Beach. After a seven rifle volley, his family scattered his ashes in the sand and surf he loved.
Burial:
Cremated, Other.
Specifically: Ashes scattered at Sandbridge Beach, Virginia