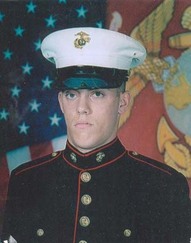 LCpl. JEREMY L. TINNEL – U.S. Marine Corps
Hometown / City: MECHANICSVILLE, VA HANOVER
Date of Death: Sunday, July 1, 2007
Conflict: Operation Iraqi Freedom (Iraq)
Branch: U.S. Marine Corps
Rank: LCpl.
Unit: CO C, 1ST BN, 2D MAR, 2D MAR DIV, CAMP LEJEUNE, NC
Birth: Jul. 31, 1986
Richmond
Henrico County
Virginia, USA
Death: Jul. 1, 2007
Al Anbar, Iraq
Marine Lance Cpl. Tinnel was assigned to 1st Battalion, 2nd Marine Regiment, II Marine Expeditionary Force, Camp Lejeune, North Carolina. Tinnel died in a non-hostile boat accident in the Euphrates River just off the shore of Al Anbar province in Albu Hyatt. Accident is under investigation. Jeremy grew up in Highland Springs and Sandston and was home schooled. He is remembered as a genuine kid with a big heart and was a true friend to all who knew him. In August 2004, he joined the Marines and trained as an infantry rifleman. During a furlough from a 2006 deployment to Iraq, he visited the children's worship service at a Baptist Church in eastern Henrico County. He and a friend stood up front dressed in their military uniforms and answered questions from the kids. Then to the tune of "Supernatural", they broke into a silly dance – the kids loved it. On March 7, 2007, he left for his second deployment to Iraq and on May 14, things got serious. Jeremy was a turret gunner on a humvee during a routine patrol when an IED detonated near the right side of the vehicle. The blast blew away the wheels, hood and engine block and sent the wreckage screeching across the road. A day after the incident, he said he had been slammed down on his M240G machine gun by the blast. He heard a BOOM and everything went black – it was like hell, but he remained in Iraq and returned to duty after a week's recovery. His military decorations include the Combat Action Ribbon, Iraq Campaign Medal, Global War on Terrorism Service Medal, National Defense Service Medal and the Sea Service Deployment Ribbon. Jeremy was a practical joker who loved life. He enjoyed hunting, fishing, mudding, four wheeling and loved his country music. He was a Civil War history buff and was definitely Dixie at heart. As he would say, I am American by birth and Southern by the grace of God. Jeremy died on his wife, Angel's, 22nd birthday. As Angel prepared for her husband's funeral, she received two letters from him that he had written to her in May. As always, he wrote, "I can hold my own." Jeremy had this to say about himself –
I AM A UNITED STATES MARINE, I'M A SAWGUNNER IN THE INFANTRY,I'M A IRAQ VETERAN AND THERE AIN'T NOTHING BETTER THAN BEING A GRUNT. I GOT BACK FROM IRAQ ON MAY 2ND AND ITS GREAT TO BE HOME AGAIN. I'M CURRENTLY BACK IN IRAQ UNTIL ABOUT OCT. I'M BACK FOR ROUND TWO BUT I'LL MAKE IT BACK TO MY WIFE ANGEL (I LOVE YOU),WHO SUPPORTS ME IN EVERYTHING I DO. SHE IS THE LOVE OF MY LIFE AND EVERYTHING I NEED . IF YOU DONT SUPPORT THE MILITARY YOU CAN GET THE HELL OFF MY PAGE! I THINK EVERYONE SHOULD DO AT LEAST A COUPLE YEARS IN THE SERVICE. THAT'S MY OPINION THOUGH…I LOVE TO GO HUNTING, FISHING, DRINKING, AND MUDDING WITH MY BEST FRIEND JONATHAN…GIT R DONE! I'M PROUD OF MY SOUTHERN HERITAGE AND BELIEVE IN KEEPING WITH MY ROOTS AND TRADITIONS OF MY ANCESTORS. CALL ME WHATEVER YA WANT BUT I'M JUST AN OL' REDNECK WITH A WILD SIDE. I'M PRETTY QUIET AROUND MOST PEOPLE EXCEPT FOR MY CLOSEST OF FRIENDS. I LOVE THE OUTDOORS, AND AM A DIE HARD NASCAR FAN (DALE JR.'S THE MAN) ANYTHING ELSE YOU'D LIKE TO KNOW JUST ASK…
Burial:
Cremated, Ashes given to family or friend.
Specifically: Jeremy is with his wife Angel