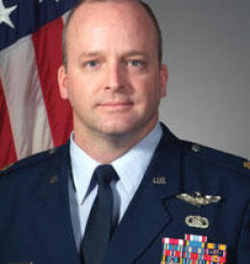 LT. COL. MARK E. STRATTON – U.S. Air Force
Hometown / City: FOLEY, AL BALDWIN
Date of Death: Tuesday, May 26, 2009
Conflict: Operation Enduring Freedom (Afghanistan)
Branch: U.S. Air Force
Rank: Lt. Col.
Unit: AIR FORCE ELEMENT, JOINT CHIEFS OF STAFF, PENTAGON, VA
Birth: Jul. 1, 1969
Death: May 25, 2009, Afghanistan
Lt. Col. Mark Edward Stratton II, 39, of Stafford County was killed Tuesday, May 26, 2009 near Bagram Air Base, Afghanistan while serving as Commander of the Panjshir Provincial Reconstruction team. He was an active member of Stafford Baptist Church where he served as a beloved Sunday School Teacher. Survivors include his wife, Jennifer Stratton; his children, Delaney, Jake, and A.J.; his mother, Janice York; an uncle, Frank Little of Foley, Alabama; two brothers, Michael Stratton and Steven Stratton; his stepmother, Debby Young of Houston, Texas; grandparents, Frances Harrell, Gene and Dolly Little and Buzz & Ellen Goins.
Burial:
Arlington National Cemetery
Arlington
Arlington County
Virginia, USA
Plot: Sec 60 Site 8840