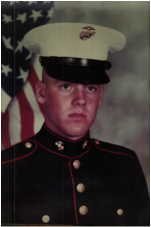 CPL. ROBERT V. MCMAUGH – U.S. Marine Corps
Hometown / City: Manassas, VA
Date of Death: Monday, April 18, 1983
Conflict: Beirut, Lebanon
Branch: U.S. Marine Corps
Rank: Cpl.
Birth: Feb 22, 1962
Death: Apr. 18, 1983
Bayrut, Lebanon
United States Marine Corps Corporal. Killed in the terrorist bombing of the United States Embassy in Beirut Lebanon on April 18, 1983.
L/cpl Robert McMaugh while  serving as a Expeditionary Air Field Specialist / 7011, re-enlisted for Marine Security Guard Duty. Upon completion & Graduation his first Duty Assignment was a Hardship one as is customary. The place, Beruit  Lebanon. Where he was killed by a terrorist truck bombing along with 242 other Marines on April 18,1983. He was promoted to Corporal posthumously. His home town is Mannasas., VA.
Burial:
Arlington National Cemetery
Arlington
Arlington County
Virginia, USA