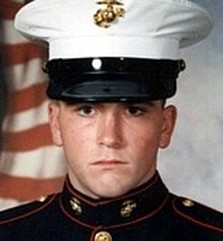 CPL. JOSHUA C. STICKLEN – U.S. Marine Corps
Hometown / City: VIRGINIA BEACH, VA VIRGINIA BEACH (CITY)
Date of Death: Sunday, December 3, 2006
Conflict: Operation Iraqi Freedom (Iraq)
Branch: U.S. Marine Corps
Rank: Cpl.
Unit: H&S CO, 2D BN, 3D MAR, (RCT-7, I MEF FWD), 3D MAR DIV, KANEOHE BAY, HI
Birth: Nov. 3, 1982, USA
Death: Dec. 3, 2006
Al Anbar, Iraq
Cpl. Joshua C. Sticklen of Virginia Beach, Va., had served in Afghanistan as well as Iraq. He enlisted in the Corps in October 2002 and reported to Hawaii in July 2003. His awards included the Marine Corps Good Conduct Medal, Iraq Campaign Medal, Sea Service Deployment Ribbon, Afghanistan Campaign Medal, Global War on Terrorism Service Medal, and the Korean Defense Service Medal. He was 24.
Marines
2nd Battalion,
3rd Marine Regiment,
3rd Marine Division,
III Marine Expeditionary Force,
Kaneohe Bay, Hawaii. Burial:
Colonial Grove Memorial Park
Virginia Beach
Virginia Beach City
Virginia, USA