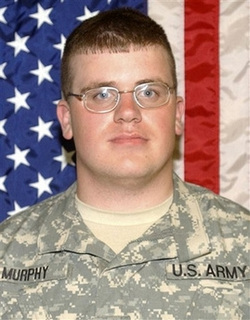 CPL. CHRISTOPHER E. MURPHY – U.S. Army
Hometown / City: LYNCHBURG, VA LYNCHBURG (CITY)
Date of Death: Saturday, May 12, 2007
Conflict: Operation Iraqi Freedom (Iraq)
Branch: U.S. Army
Rank: Cpl.
Unit: COMPANY D, 4TH BATTALION, 31ST INFANTRY, FORT DRUM, NY
Birth: Oct. 18, 1985
Barnstable
Barnstable County
Massachusetts, USA
Death: May 12, 2007, Iraq
Army Cpl. Murphy was assigned to the 4th Battalion, 31st Infantry Regiment, 2nd Brigade Combat Team, 10th Mountain Division, Fort Drum, New York. Murphy died in Al Taqa of wounds sustained when his patrol was attacked by enemy forces using automatic fire and explosives. Christopher grew up in the rural Gladys area of Campbell County, Virginia. He attended William Campbell High School where he played high school football without his glasses. Although that left him unable to see 10 feet in front of him, he was a hard worker and a bull on the line. As a junior he was a substitute on the school's 2002 state championship football team, but thru hard work he became a starting defensive tackle the next year. With 13 victories, that team went to the state semifinals. As a freshman, Christopher was asked in history class for a brief biography. He wrote he liked video games, games of strategy such as chess and games that involved combat. With his typical seriousness, he also wrote, "I don't have a dog." He graduated from high school in 2004 and then joined the military. Christopher was one of those kids that everyone enjoyed being around. He was very hardworking and very humble.
Burial:
Arlington National Cemetery
Arlington
Arlington County
Virginia, USA