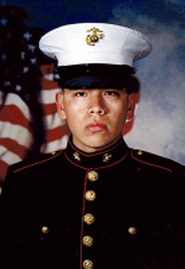 Cpl. BRETT L. LUNDSTROM – U.S. Marine Corps
Hometown / City: STAFFORD, VA STAFFORD
Date of Death: Saturday, January 7, 2006
Conflict: Operation Iraqi Freedom (Iraq)
Branch: U.S. Marine Corps
Rank: Cpl.
Unit: E CO, 2D BN, 6TH MAR, RCT-8, 2D MAR DIV, CAMP LEJEUNE, NC
Post / Base: Camp Lejeune NC
Birth: Jun. 12, 1983
Vermillion
Clay County
South Dakota, USA
Death: Jan. 7, 2006, Iraq
BLACK HAWK, SD — Brett Lee Lundstrom, 22, USMC, of Black Hawk, SD died while serving with the United States Marine Corps on Saturday, January 7, 2006 in Fallujah, Iraq. Brett was born on June 12, 1983 in Vermillion, SD to Ed and Doyla (Underbaggage) Lundstrom. He joined the Marine Corps in Jan. 2003 and served in Afghanistan and Iraq.
Brett was charismatic, with a kind and generous soul; always humorous with a smile that lit up any room or place he entered. Brett was an enrolled member of the Oglala Sioux Tribe who whole-heartedly served his country.
Brett loved spending time with his family, friends and relatives and enjoyed his time in the Marines. He also loved his Washington Capitals and a variety of other sporting events.
Brett attended many schools, as his father was a career Marine Officer. The family moved to many places and Brett made friends very easily, He had a wealth of knowledge from all his travels.
He is survived by his father, Edward Daniel Lundstrom of Detroit, Michigan, Mother, Doyla Carol (Underbaggage) Lundstrom of Black Hawk, SD and brother, Eddy Lundstrom of Ft. Sill, Oklahoma, maternal foster grandparents, Lynn Rapp and Darrell Campbell of Buffalo Gap, SD, Jim and Jackie Boensch of Rapid City, SD; paternal grandmother; Donna Mae Munoz of Gering, NE.
Brett was preceded in death by his paternal grandfather, Richard H. Lundstrom, maternal grandfather, Norman Underbaggage, and maternal grandmother, Hazel Theresa (Kill Straight) Underbaggage.
Wake services will be held on Saturday, January 14, at 4:00 p.m. and concludes Monday, January 16, at 10:00 a.m. Wake services will be conducted at Little Wound School Gymnasium in Kyle, SD.
A Catholic Funeral Mass will be held on Wednesday, January 18, at 10:00 a.m. at the Immaculate Heart of Mary in Northglenn, CO., burial to follow at 1:00 p.m. at the National Cemetery in Ft. Logan, CO with full military honors.
In lieu of flowers, donations can be made to the Navy-Marine Corps Relief Society in memory of CPL Brett Lee Lundstrom. Make check payable to NMCRS or Navy-Marine Corps Relief Society, mail to 875 N. Randolph Street, Suite 225, Arlington, VA 22203-1977.
Serenity Springs Funeral Chapel is in charge of arrangements in South Dakota and Horan & McConaty Funeral Home in Denver Colorado will be in charge of arrangements in Colorado.
Burial:
Fort Logan National Cemetery
Denver
Denver County
Colorado, USA