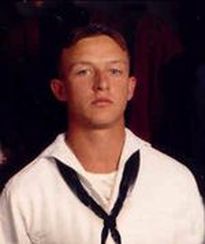 CM2 KEVIN E. CLARK – U.S. Navy
Hometown: Virginia Beach, VA.
Date of Death: September 10, 2005.
Branch: US Navy,
Unit: UCT-1, Little Creek-Fort Story, VA.
Birth: Aug. 16, 1979
Idaho Falls
Bonneville County
Idaho, USA
Death: Sep. 9, 2005
Virginia Beach
Virginia, USA
Kevin Everett Clark, age 26, of Virginia Beach, Virginia, died Friday, September 9, 2005, due to critical injuries sustained in a motorcycle accident in Virginia Beach, Virginia. Kevin was born in Idaho Falls, Idaho on August 16, 1979 to Corinna Covert and Brent Clark. He lived in Ririe, Idaho until he joined the United States Navy in 1998. Kevin was ranked an E5 diver with the UCT1 base at Little Creek Amphibias Base Virginia. Kevin fought for his country in Iraq and Kuwait. He was survived by his father Brent Clark of Ririe, Idaho, two children, Jeth K.C. Clark age 5 and Kaleb Jon Clark age 3 of St. Mary's, Georgia, Spouse, Kristen Clark of St. Mary's, Georgia. A close friend Angeliyan Steed of Chesapeake, Virginia. Siblings, Shay Fullmer and family of Rigby and Melissa Mutschler and family of Ririe. Grandparents Kay and Sandra Covert of Iona and Maxine Clark of Ririe, Aunts, Uncles, Fellow Divers, Friends and family. Funeral services will be held Saturday September 17, 2005 at 11:00 a.m. at the Ririe-Perry Ward LDS Chapel in Ririe, Idaho. The family will visit with friends from 9:30 to 10:45 a.m. Burial will be in the Ririe-Shelton Cemetery under the direction of Eckersell Memorial Chapel in Rigby. Condolences to the family can be made at eckersellfuneralhome.com.
(Obit courtesy Lorraine & Darline Simmons)
Burial:
Ririe Shelton Cemetery
Bonneville County
Idaho, USA
Created by: Collins Crapo
Record added: Apr 23, 2006
Find A Grave Memorial# 14043967