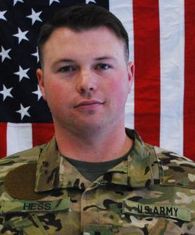 1ST LT. ROBERT J. HESS
Hometown: Fairfax, VA.
Date of Death: April 23, 2013
Operation Enduring Freedom
Unit: Assigned to the 2nd Aviation Battalion, 10th Combat Aviation Brigade, 10th Mountain Division, Fort Drum, N.Y.
Birth: unknown
Death: Apr. 23, 2013
Pul-i-Alam, Lowgar, Afghanistan
1st Lt. Robert J. Hess, 26, of Fairfax, Va. , died April 23, in Pul-E-Alam, Afghanistan, of wounds suffered from enemy indirect fire.
Hess was a Blackhawk pilot. After completing pilot training at Fort Rucker, Alabama, he arrived at Fort Drum in November 2012, according to the Ft. Drum website.
He was recently deployed to Afghanistan in April 2013.
Hiss awards and decorations include the Purple Heart, the Bronze Star, the NATO Medal, the Afghanistan Campaign Medal, the Combat Action Badge, the Army Achievement Medal, the National Defense Service Medal, the Global War on Terrorism Service Medal, the Army Service Ribbon, and the Army Aviator Badge.
Hess is survived by his mother, father and brother
Burial:
Unknown